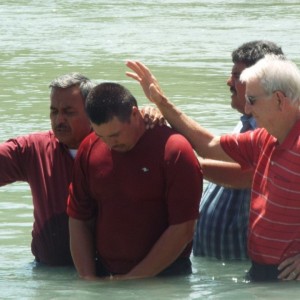 This was an exciting and productive summer for our Short-Term Ministry. We only spent one week in Mexico, but we had a great team and were able to accomplish the goals that were set for the week. The team traveled to San Antonio, Texas on July 11, where we met them with the vans. After lunch at Luby's, and a short stop at Wal-Mart, we traveled to Del Rio, Texas where we were met by Lalo (the Field Director) to help us cross into Mexico. The crossing was made without any problems. We checked into our hotel and had a restful night.
On Sunday morning, we traveled to Jiminez for a baptismal service and lunch with several churches from Piedras Negras. It was a wonderful time of fellowship and delicious food, but the highlight of the day was the baptism where 6 persons who had come to the Lord were baptized and welcomed into the fellowship. On Sunday night, we attended the El Tabernaculo FWB Church in Acuña, where we met the Franciso Ortiz Family, that had been chosen to receive the house that we were going to build as a special project. They were extremely grateful. (The youngest son, Samuel was asleep in church and not pictured.) Our work program began on Monday morning. The building location was just around the corner from the church, which made it very convenient since our meals were provided by the church. The work progressed well during the week. Everyone was busy. The team worked great together. It was a joy to work and have fellowship with our Mexican brothers who came from different areas to work on the house. The pictures show the progress of the work during the week. We completed the main structure, added the roof, installed all doors and windows, and completely wired the house. We worked from Monday morning until 3 p.m. Friday afternoon. (This will be completed by our Mexican Brothers.)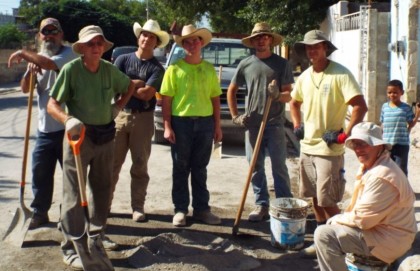 At the same time, Sandra, Tammy, Brooke, and several of the Mexican ladies conducted Vacation Bible School and Women's Bible Study. They were assisted by Raquel who served as their translator. It is always a joy to hear the children sing and recite verses they are taught during the week. The Women's Bible Study time is always a great blessing. Some of the sessions were extended because of the discussions. Everyone enjoyed craft time, too. The ladies did a great job during the week. The Short-Term Mission Team Ministry has blessed the lives of many people in Mexico, as well as those who have traveled from the United States. We praise the Lord for the opportunity to serve in this capacity.