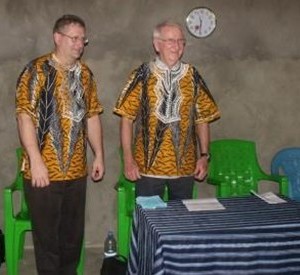 We want to give God the glory for His continuous blessing upon us as a church. In February, we were honored to have received Rev. Harold Jones , Executive Director of OFWBI and Dr. Frankie Baggett, Pastor of Elm Grove OFWB Church. We refer to them as the "Spiritual Fathers" to our President, Rev. Gnininte. Their visit with us was a successful and memorable one, yet was also a tough one. Driving a whole day on unpaved roads through the jungle regions of Liberia is one event you can never forget about in your life time. On a series of occasions we had mechanical breakdowns, and we had to travel for hours to get a mechanic. We had a breakdown, and a heavy rainfall with Rev. Jones and Dr. Baggett with us. These are strong men endowed with special grace to do the Lord's missionary work.
During our visit to one of our churches in Greenville, Sinoe County, we met with students at the Frankie Baggett Elementary School. Meeting the various churches across the country was also rewarding; to see brethren who are committed to the cause of Christ, and to note that the churches are growing spiritually and numerically. We also saw the church building projects as we visited 5 of the churches under construction. We are grateful to our brethren who committed themselves into supporting us in building God's house. May the Lord richly bless and favor you. May He multiply every seed you have sown into His kingdom. Please note that your support has provided worship centers for God's children. We may not see you in person, but Rev. Jones mentioned your names to us, and we shall continue to lift you and your families in prayer each day as we meet in our worship centers. (Below  is the newly constructed Prince of Peace FWB Church, Tiayee, Nimba County.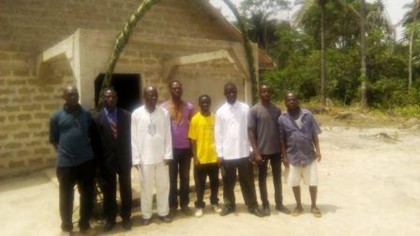 ---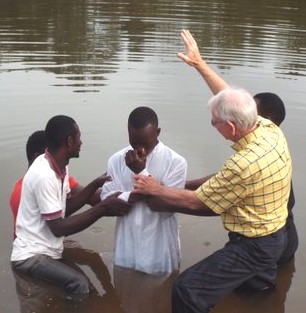 For the very first time in Liberia, the Rev. Harold Jones was able to baptize 8 new converts in Zwedru, Grand Gedeh County. It was a joyous time and celebration to have seen our father officiating this ceremony. This marks a historical moment in the life of the Original Free Will Baptist Church in Africa.
We also had a great time visiting the Agriculture Center, and to see some of the harvested rice. Rev. Jones tried out the power tiller. One is currently broken down, while the other is still being used to help local farmers. A portion of the harvested rice will be used to feed delegates at the Conference. For the very first time in our history, delegates will come without food, and we will be able to feed them without any hindrance. We want to give God the glory and thank everyone for your support towards the purchase of the power tiller.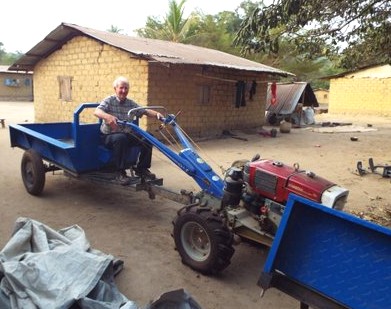 A few months back, the Vice President of Liberia was in Gbedin, Nimba County and he praised the farmers in that region for being the bread basket of the country. Noting that they were able to continue rice production even during the first Ebola outbreak until the present. Other farms were shut down, but this one continued operation. And he attributed the success to the power tillers which made the work easier and enabled farmers to increase productivity. Our church was appreciated by the Vice President. He encouraged other churches to follow our example of serving, not just spiritually but physically as well. Farming season has resumed, and there is a need to get another power tiller to help famers increase productivity. When the demand for the machine is high, we see many farmers coming to use just one or two machines. It is over used and this can cause damage to the engine. Thank you for all you do to help make this ministry possible.