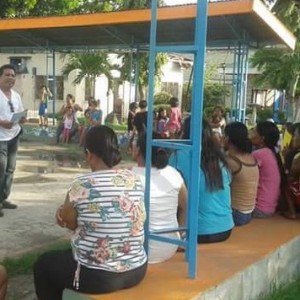 CHILDREN'S MINISTRY OFWB CHURCH, MEDELLIN CEBU, PHILIPPINES BY PASTOR PESTAÑO
Every year we have the joy of giving Samaritan boxes to the children, aging 4 to 14 years old. In line with this activity, we also conduct Bible Studies and Feeding Programs for these kids every week. We are praying that more kids will be added to the group so that they may be able to hear God's Word and be able to grow and live according to God's ways. We are also asking for your prayers for our ministry here in Medellin, Cebu, Philippines. Thank you and God bless you for your faithfulness.
G.O. BOXES CHILDREN'S MINISTRY NAGA CITY, CEBU, PHILIPPINES BY PASTOR MEDINA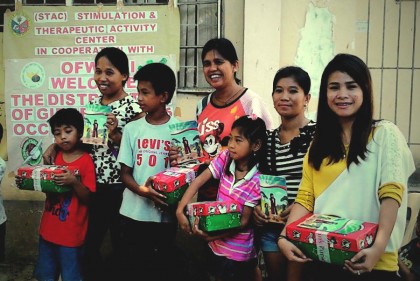 The Free Will Baptist Church in Naga City has a ministry with the STAC (Stimulation and Therapeutic Activity Center) located in that city. They held a meeting with parents of the children with disabilities  to plan their monthly meeting. We presented our proposal of G.O. (Gospel Opportunity) boxes to be part of their April 2016 socialization program and they accepted and approved.  The event was held on April 27 and was a great success. They also requested us to teach livelihood training skills, which consist of powder detergent soap making, and dish washing liquid soap making. They are now selling these products to raise funds.   The children with disabilities, together with their parents, were very happy to receive the Samaritan's Purse Shoe Boxes, and were grateful to us and to the donors for this great blessing. Their posing was an express of their gratitude.
VACATION BIBLE SCHOOL 2016 CALEB'S DOLLAR MINISTRY
A SPECIAL "THANK YOU" TO ALL WHO PARTICIPATED IN GIVING TO THE CALEB'S DOLLAR MINISTRY THROUGH YOUR VACATION BIBLE SCHOOL OFFERINGS. THE AMOUNT RECEIVED THIS YEAR WAS $18,235.20, WHICH WILL PROVIDE 182,352 MEALS. WE ALSO THANK THOSE WHO GIVE ON A REGULAR BASIS TO PROVIDE MEALS FOR BOYS AND GIRLS IN OUR SCHOOLS IN LIBERIA. MAY GOD CONTINUE TO BLESS YOU AS YOU BLESS OTHERS.