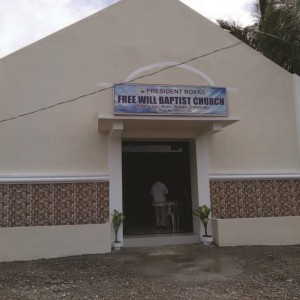 President Roxas OFWB Church Dedication
The President Roxas Original Free Will Baptist Church (OFWBC) glorifies God as they have now seen a church, a building that has been born in prayer, nurtured by deep faith and finally manifested by the grace of God. They are so humbled yet amazed by what God has done. The Dedication Service started at 2:15 in the afternoon, with a song and an opening prayer led by Mrs. Estrellita Abellana and was followed by a dance presentation enthusiastically performed by the young people.
Mrs. Mary Ann Numos delivered a very touching welcome address and recognized more or less 200 people including pastors, guests, visitors, and church members who were attending the said celebration. In her message, she expressed that they are so grateful to serve such a gracious and amazing God. As they were led by God to start the ministry in President Roxas, Cotabato in  2009, their vision was not really focused on having buildings, instead their vision was to make disciples and bring souls to Jesus Christ. For almost seven years in ministry, God has really been working as they have seen a living and growing church. She also added that God's faithful promise and provision is their source of comfort and strength during their difficult days in church planting. It is not easy to plant a church but it is a promise that whatever God calls us to do, He will enable and equip us to do it. The Treasurer of the Original Free Will Baptist Church, Philippines, the Rev. Dario S. Basingil, together with his wife Susan Basingil, the Board of Trustees Secretary, the Rev. Ludgerio Malinao, and his wife Lita Malinao, guest pastors, and church members led the dedication of the newly constructed church. The Rev. Dario Basingil stressed that all things that we have come from the Lord, that is why it is important to dedicate the church that we have now to bring honor and glory to God.
Lastly, the President Roxas Original Free Will Baptist Church expressed their heartfelt thanks to the Foreign Mission Board for their generosity and financial support, the national leaders and Southern Mindanao District officers, for the moral support, the pastors of the different evangelical churches, and the local church members themselves for the cash, in-kind and labor support and for all the prayers that made the church a realization. Above all, worthy of praises and thanksgiving is being offered to the most High God for His grace that continually abounds.
Pastor Ordination Service President Roxas OFWB Church
Following God's command to Moses in Exodus 28:41 to anoint, consecrate, and sanctify his brother Aaron and his sons into priestly office, the Rev. Djeck Elton L. Numos was ordained as a pastor of the Original Free Will Baptist Church in President Roxas, Cotabato. The ordination was executed by the Board of Trustees Secretary and Southern Mindanao District Superintendent, the Rev. Ludgerio Malinao. Church members, visitors and guests from OFWBC Digos City, Magsaysay, Matano, Kiblawan, and Sta. Cruz, all in Davao Del Sur, witnessed the said ordination.
The Rev. Numos was a former employee of a multi-national banana company for almost 10 years, however, in obedience to the call of God into priestly office he left his job in 2010 and focused on the ministry. He is now a full-time host pastor with his wife assisting him. He was blessed with two daughters who are both high school students now, and help in the ministry on the Praise and Worship Team.
In his message, the Rev. Numos expressed thanks to all the people, especially the church members, for all of their support in the ministry. He further added that without the support and participation of the members, the pastors, the district, and the national officers of OFWBC, the ministry would not be realized. Above all, he is giving back all the praises and glory to God for all that He has done in His church.