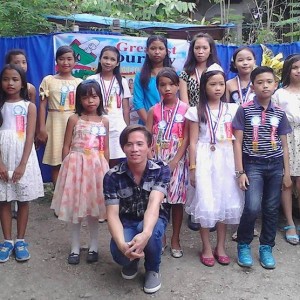 The Annual Convention Mission Rally will be May 24 at 7:00 p.m. in College Hall at the University of Mount Olive. We hope you will make every effort to attend. Your special gift at this rally will enable the Board of Foreign Missions to continue reaching around the world with the Gospel. Thank you in advance for your generosity. REMEMBER! YOUR GIFT MUST BE EARMARKED "FOREIGN MISSIONS" OR PLACED IN A SPECIAL ENVELOPE THAT WILL BE PROVIDED AT THE RALLY. (The Convention Executive Committee will be hosting the Rally this year).
THE GREATEST JOURNEY GRADUATION Cebu, Philippines By Pastor Renato Pacudan
On April 15, 2017 at the Lusimba Outreach, Pardo, Cebu City. There were 17 students who graduated but only 15 students marched in the graduation ceremony. The parents of the students were amazed at the graduation ceremony because they thought that it would only be games played by the children. The parents were happy because of what they saw. During my message I challenged them not to stop the children from attending our discipleship Bible study, so their learning will not end after the graduation. The comments of the parents were positive. They will allow their children to continue to attend. Thank God! All the glory belongs to Him.