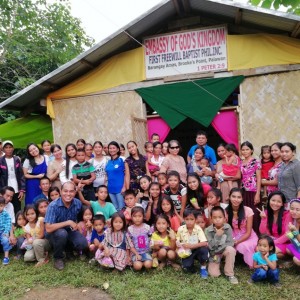 Glory to God, the Amas First Free Will Baptist Church Palawan, Philippines celebrated their Christmas and Thanksgiving on December 17, 2017. There were about 65 members attending the celebration. We're so happy and blessed to see that they are so sincere in their service to God. Even in a simple preparation, they are happy to honor God through worship. The service was lead by Pastor Roderick Nelasa, Brother Jake, and Ma'am Angie Fabila. Thank God because we felt their pure hearts as they listened to the Word of God delivered by Pas-tor Mark Taladro. We praise the Lord for meeting their spiritual needs. After the word of challenge, we gave gifts to the children, young people, and the women. We are thankful to God for touching the heart of the person who donated these gifts. May you have a wonderful Christmas celebration.
CHRISTMAS CELEBRATION —Balacan FWB Church Brooke's Point, Palawan, Philippines
To God be the Glory for His continuous abundant blessings upon this church, through His servant Pastor Alvin and Ma'am Leila Dagot. Their church mem-bers are so respectful to all Christians and visitors. The music team led the worship songs with great joy and enthu-siasm. There were about 200 members and visitors who attended this service. Pastor Mark Taladro shared from the Word of God from Psalm 100:1-5. Eve-ryone received a great blessing from the message. This was followed by presenta-tions from the children, young people, and women, and then gifts were given to everyone. We're so blessed by the life of Pastor Alvin and Ma'am Leila Dagot. The food preparation came from pledges and donations from the church members. They had a lot of delicious food. It was a wonderful time of celebration. A big "Thank You" to everyone. God bless you all as you celebrate the Birth of the Christ Child.