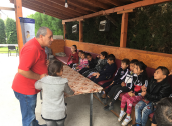 God's Love Expressed in Bulgaria
By Teresa Ball
After a short delay for Hurricane Florence, our group, Harold and Sandra Jones, Harry and Doris Grubbs, and I were finally leaving for our visit to Bulgaria. We arrived in Sofia, the capital city, on September 26, and were warmly welcomed by Kiril and Irina Svilenov. Irina had prepared a very welcomed dinner after so many hours of travel.

From Sofia we flew to Varna, on the Black Sea. We visited the church, the workers, and with the Roma (Gypsy) children. Classes for the children are conducted to include regular education, hygiene, and social skills. We attended the Sunday morning Worship Service with Mr. Grubbs delivering the message.

We drove to Balchik to visit with the church members there. The smaller children and teenagers had prepared a program for us. We were able to donate book bags to the children and blankets to the women, and shared dinner with the workers. We had special prayer with a little boy and his mother, for his