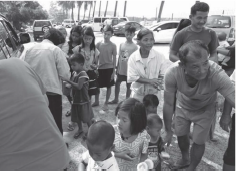 BAYWALK FEEDING AT MANILA BAY
Manila, Philippines
By Marvey Cuba
Many verses are found in the Bible concerning our Lord Jesus Christ's concern for the needy one. He gave more attention during His ministry to those who are in lowly situations in life. He felt pity on them. He mentioned it in His Word found in Hebrews 10:24, "And let us consider one another to provoke unto love and to good works." This is a command. Another one found in Galatians 6:2 "Bear ye one another's burdens, and so fulfill the law of Christ." One of our brothers in Cavite, Brother Dennis Adia, his family, and the Rev. Amel Cuba united to express the Spirit of Christmas by having a feeding in the Baywalk where many poor people are found. They stay in this area with their families, trying to make money in any way they can just to feed their families. Throughout the year some government and non- government agencies give food or goods for them. They were very happy for that we gave them, and that someone cared for them.

We give all the praise and thanks to God for the privilege to share our blessings with the needy. The Lord promises in His Word in Galatians 6:10, "As we have therefore opportunity, let us do good unto all men, especially unto them who are of the household of faith." Please pray that this activity will continue as we share our blessings, not only physical but most of all the spiritual blessings. God bless us all!!!
CHILDREN'S MINISTRY
Caloocan, Philippines
By Marvey Cuba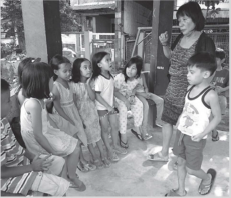 "Train up a child in the way he should go: and when he is old, he will not depart from it" Proverbs 22:6, It is a good thing to motivate children in learn God's Word while they are still young so that this will be a great foundation for their Christian lives.
Every Sunday afternoon during the Sunday School of the adult, children also have their separate Sunday School training by Bible Woman, Norma F. Cuba. They are taught stories from the Bible, singing Christian songs, doing some activities, memorizing verses and presenting them in the front of the congregation. We're so happy seeing the little ones singing, and sharing memory verses during the presentation, although some of them are very young, they can have memorized verses from the Bible. After their presentation, there is one member called to lay hands for them in prayer. They are fed every Sunday by the assigned member. Let us pray for them that they stick to the truth that they are taught until the day of the Lord's coming
FFWBC MANILA YOUTH IMPACT 2018
Philippines
By Marvey Cuba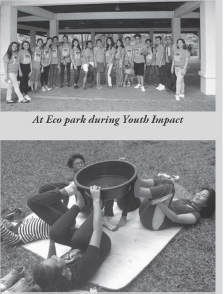 "Let no man despise thy youth; but be thou an example of the believers, in word, in conversation, in charity, in spirit, in faith, in purity" (1 Timothy 4:12). It was a wonderful day that the YWAR (Youth with a Revelation) had an activity called Youth Impact from 8:00 in the morning till 5:00 in the afternoon, to show their love and faith to honor and praise God. This event developed their unity to mold and build in spiritual aspects of their lives by sharing verses that inspired everyone. Sister Gladys Taladro, the eldest daughter of theRev. Mark Taladro, assisted by other youth, and Rev. Amel Cuba organized the activity supported by the church members.
They engaged in different games which everyone enjoyed and shared food and fellowship with each other. They proceeded to the Caloocan Church for the continuation of the program. They had their dinner break, followed by an inspirational message shared by Rev. Amel Cuba. He challenged them to become strong in their faith, be a role model of their action to others, and be a supportive individual in the ministry of the Lord in the church, which is the aim of our programs. They were also challenged to be an inspiration as a youth to be a part in God's ministry as a member of the Christian community that even when they are in school, at work or other places, they can share and show through their actions the goodness of God in their lives. Pray for our youth and the leaders.
EVANGELISM THROUGH SUPERBOOK SHOW AND FEEDING MINISTRY
Palawan, Philippines
By Letty J Segay
We believe that the Great Commission was entrusted to every believer. We, at the Emmanuel First Free Will Baptist Church in San Pedro, Puerto Princesa City, Palawan, have a passion for soul winning, especially the children. Our strategy was through SuperBook Show and Feeding Ministry. We have an outreach in Blue, Palawan where we offer feeding for the kids. There are about 20 to 30 children who benefit from this feeding ministry. Every Saturday afternoon we have a short Bible storytelling. Then we invite them to the church and Sunday School and have a series of the SuperBook, an animated Bible character, and after the show there is a sort of exhortation based on the story as an implication to the life of the children. With that system of ministry, it helps us reach their family for the Lord.
We believe with this kind of ministry God will use it all to help us reach those who are closed minded about Jesus and this will draw them near to the Lord through and by means of their children. We are so thankful to God for all He has done. To Him be the glory and honor.