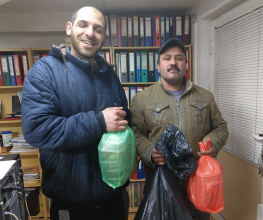 THE CHURCH AMONG THE POOR
Balchik, Bulgaria
Recently I read an article that made me once again aware of the complexity of poverty. The author of the commentary explains that "the materially poor are trapped by multiple, interconnected factors—insufficient assets, vulnerability, powerlessness, isolation, and physical weakness—thatensnare them like bugs caught in a spider's web." Eventually feelings of entrapment, failure, low self-esteem, isolation, shame, and hopelessness can be rather paralyzing. Unless we properly define poverty, there will always be those insisting that the core purpose of the Church is to proclaim the Gospel of Jesus Christ, and meeting physical needs of the poor is distracting the Church from her main purpose. I am sure it is distracting, only when feeding the hungry is done in a vacuum, without the Gospel or just for the need itself.
While speaking with the poor that God has entrusted us, I seldom hear of their physical needs. They talk about being ashamed, isolated and hopeless. And it is this sort of real deep poverty that the Church is to answer along with the physical needs. I tell to every desperate person that comes to me for help, or often just for a talk, that the Gospel of Jesus Christ has the power to take away shame, and to give hope, despite all circumstances.
The Church in Balchik is involved in relief work, when there are the means for it. Thanks to your generous financial support, we are able to help people in desperate need of food and medicaments. Most of the time, we feed very poor people in the Church. When the weather is very bad and the roads are icy, we can't go to the church we distribute food from the old church office. Thanks to your spiritual support and prayers, we lead people out of the spiritual poverty they are in.
Dear brothers and sisters in the Lord, may God bless you and keep you in His love and Care. We always think of you in prayer.