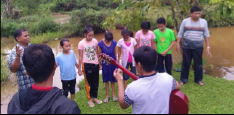 BAPTISM CEREMONY
Winigit FWB Church
Northern Palawan, Philippines
By Merly Taladro

To God be the glory for His blessings to the church of Winigit. Rev. Marcos Taladro, the Rev. Bern Borja and the Rev. Romeo Galleto Jr., recently baptized 6 precious young people who have committed their lives to following Jesus and His commands. All praises and honor we give back to our Lord Jesus Christ. Please help us to pray for the newly baptized.
EQUIPPING THE NEXT GENERATION OF GOD'S CHILDREN
Brooke's Point, Palawan, Philippines
By Liela Dagot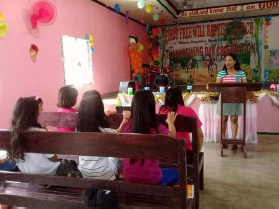 The Youth of the First Free Will Baptist Church, Balacan, Brooke's Point recently held a mentoring activity. Pastor Alvin and Sister Liela Dagot taught them about how to live a Christ-like life, and honor Christ in everything they do. The activities began with a time of praise and worship, led by the Praise Team. This was followed by the teaching of God's Word by Pastor Alvin and Sister Liela. Each session began with a time of intense prayer for God's guidance and blessings.

One of the highlights of the day was the time when the youth honored the pastor and mentors in the church. There were many tears and heart-felt embraces in appreciation for all that these dear people have done to help the youth in their Christian walk. The youth promised to support the ministry and respect their mentors.

There were also lessons for the children. These were led by some of the youth that had already been through the mentoring program. They taught the children through storytelling, coloring, and individual art work.
This was a wonderful day filled with the blessings of the Lord. To God be the glory as we strive to equip the next generation of God's Children.