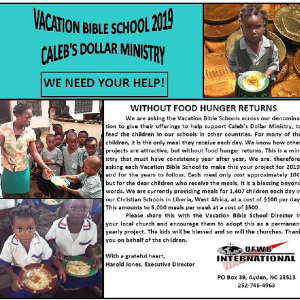 Without food , Hunger returns
We are asking the Vacation Bible Schools across our denomination to give their offerings to help support Caleb's Dollar Ministry, to feed the children in our schools in other countries. For many of the children, it is the only meal they receive each day. We know ho other projects are attractive, but without food hunger returns. This is a ministry that must have consistency year after year. We are, therefore, asking each Vacation Bible School to make this your project for 2019, and for the years to follow. Each meal only cost appox. $ .10, but for the dear children who receive the meals, it is a blessing beyond words. We are currently providing meals for 1,407 children each day in our Christian Schools in Liberia, West Africa, at a cost of $100 per day. This amounts to 5,000 meals per week at a cost of $500.
Please share this with the Vacation Bible School Director in your local church and encourage them to adopt this as a permanent yearly project. The kids will be blessed and so will the churches. Thank you on behalf of the children.
With a grateful heart, Harold Jones, Executive Director