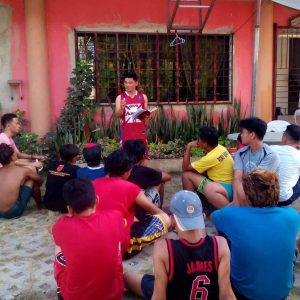 By Pastor Armel P. Pañares
SPORTS came into existence because of the concern for the spiritual needs of young people. We inniated ball games "to lead other young men to Christ." We decided to start something new to give the young men some constructive and wholesome activities. Young people will attend an athletic event and pay attention to the Gospel there, but they would never darken the door of a church. The first business of evangelism is to gain a hearing for the Word, and basketball has proven to be effective to that end.
It's all by the grace of God that since our mother church here at Villa Bulsita Bulacao was newly reestablished; now it's gradually harvesting souls especially with the young people. Recently we registered a list of players that has 4 teams that reached more than 40 young people.
By the helps and support of our Administrator Pastor Dario and Susan Basingil and with our youth officers, our planned Sports Summer League will come to reality! Thank God this month of May we will start the league with participations from all Cebu district local church teams.
To God be the glory!