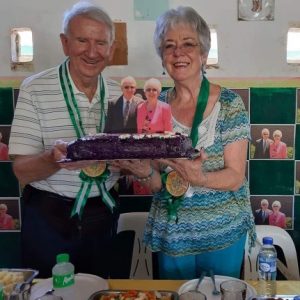 By The Reverend Alvin Dagot
Thank you LORD once again for the blessing of meeting our spiritual parents, Sir Harold and Ma'am
Sandra, our beloved missionaries. The Bible says in Psalm 103:13 "Like as a father pitieth his children, so the Lord pitieth them that fear him." It is not a hindrance to you how far your land of your home and the distance of how long you traveled to come here with the spirit of love and concern as being your family and a successor of the ministry that you started since you come here in the Philippines.
Last April 13, 2019 at 11:00 am Sir Harold and Ma'am Sandra arrived here in FFWBC, Brooke's Point, Palawan. We had a short program of Commendation for our beloved missionaries and advance greetings for their 57th Blessed Wedding Anniversary. The program consisted of the following:
• A song and dance presentations from the youth and members.
• A short message of encouragement message from Sir Harold. He said, "Never, never, never, never, give-up."
• A short talk of Encouragement message from Ma'am Sandra. She said "trust in the Lord with all your heart"
• A prayer for the Church Congregation of Balacan, Brookes Point, Palawan.
We shared lunch fellowship of delicious food offered from the church members. Before Sir Harold and Ma'am Sandra left Brooke's Point, they prayed for a young boy named Jerick, who has been bedridden for three years. He was injured in an accident three years ago and never had proper treatment for his injuries. He has been in pain all that time. The slightest movement of his legs caused a cry of pain. When they saw him, their hearts were broken and they decided at that moment that they would help. When they told the family and gave some immediate financial help, there were tears and words of gratitude, for they had wanted and hoped for years for some to help them.
It was a very significant event in our lives here in First Free Will Baptist Church, Brooke's Point, Palawan for our father in the faith to be with us. Thank you Lord for the blessing of meeting with our beloved missionaries once again. Thank you for coming Ma'am Sandra and Sir Harold. GOD bless you always.
UPDATE ON JERICK:
Jerick has been moved from Brooke's Point to Puerto Princesa City, but the hospitals there are not equipped to treat him. He was given medication to help control his pain. We are now trying to find a way to transport him to a hospital in Cebu City. We have church family there who can house and care for the family while he is treated. Please join us in prayer for Jerick. Our hope and prayer is that someday in the near future this young man, who is now sixteen, will walk again and be a great witness for our Lord. Thank you for what you do to make it possible for us to extent help to those in need around the world.