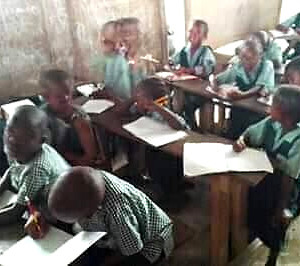 ORIGINAL FREE WILL BAPTIST MISSION CHURCH OF LIBERIA
We give God the glory for what He is doing and continues to do for the Mission in Africa. We also want to take this time to thank you for your prayers and financial support for the work here. Indeed, all the testimonies would not have been possible without your support and prayers. The Lord is adding people daily to His Church. Students who would have had no hope of education are now sitting in classrooms free of charge, yet receiving quality education as well as free meals. The Brilliant Christian Institute and the King's College played a soccer match to mark the closing program of the Brilliant Christian Institute for academic 2018/2019. It was a friendly match and the game ended with a draw. At the Closing program, Mother Lurece Gnininte, wife of Rev. Gnininte, served as Guest Speaker. She admonished parents to continue to send their kids to school as OFWBI, through the Caleb's Dollar Ministry Program, has committed to providing free education and meals for their children. She also encouraged students to make use of the opportunity given them to better their future, adding knowledge is power. She also thanked the teaching staff for their volunteer services to help these kids acquire quality education. At the close of the program, parents expressed their deep gratitude for the help Caleb's Dollar Ministry is giving them, their kids and many others. We are so thankful that God is using the Original Free Will Baptist International to make an impact in the lives of children around the world. Brilliant Christian Institute is one of 5 schools under the Caleb's Dollar Ministry of the OFWBI receiving assistance for kids feeding. Other Schools are set to close mid August, and will be resuming the last week in August for academic year 2019/2020. All we can say is thank you so much for the hope given these precious kids who would have had no help whatsoever to acquire education and prepare for the future. May the Lord richly bless you and your families. The Heads of 5 academic and 1 vocational schools met on August 18, to discuss progress and challenges faced by them. Ahead of the meeting they stressed the need for cameras to enable them keep pictorial regards of the daily happening at their schools and to be able to make a good periodic report with pictures evidences. Please keep
them in your prayers as some will be traveling in risky circumstances due to bad road conditions because heavy rains have damaged most of the roads. In most places only bikes can travel the road, as it is now impossible for cars. Please keep them in your prayers. High on the agenda for the meeting was the progress report, and plans for the new academic year. Please keep us in your prayers.