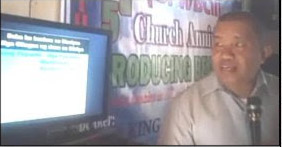 Since the government of Cebu, Philippines announced the temporary suspension of all in-person church gatherings in the province, but our worship services have continued online. The announcement came days after Cebu City was placed under Enhanced Community Quarantine, which required people to observe social distancing. Religious gatherings have been linked to the Corona virus outbreaks in our part of the world. We use the word temporary, because we hope this pandemic will end so we can hold our activities once again.
We, as ministers, are convinced that staying connected to one another in faith groups is healthy and helpful during this difficult time. We are having virtual church or household church worship services with Facebook live and group chat messenger on Sundays and Wednesdays. We are also staying in touch with our members through phone calls, and text messages. This brings us together, encourages spiritual growth, and helps us endure the Covid-19 challenge.
We know that everyone is experiencing this crisis in deeply personal and challenging ways. Some people have found their sense of security in their own ability to provide for themselves, to work hard and get things done, while others have kept themselves away from the Lord and from one another. During these difficult times, we must reevaluate our priorities.
Our Original Free Will Baptist Churches know that a deeply spiritual, Christian community is a gift from God that brings friendships, strength, hope, and encouragement for our lives. We are leaning on each other, we are finding new ways to stay connected, and as always we are inviting others to join. God is with our community in this trying time. God does not abandon us, and if we all look around we will have the opportunity to offer and receive love and compassion. There is hope, even through we don't know what the future holds. We know who holds the future. We don't need to panic. Although things are uncertain and can feel scary, we have a God who will be with us through all this. Praise be to God!