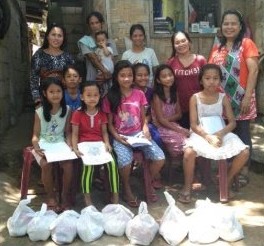 Praise to the Lord for He has blessed the Church here in Getafe. For 8 weeks we were under enhanced community quarantine. Since we are unable to have a service here in our churh, we still made the Sunday worship possible via video recording and posted it to our church Facebook page. During the 9th – 11th week. we are now in general community quarantine and we are able to visit our church members in other barangay ( village) . We also have 4 services every Sunday. For 2 Sundays have had Sunday worship here in our home Church and we have 1 in the morning and 1 in the afternoon.
Aside from that, this pandemic has given us an opportunity to encourage our young people to practice musical instruments in our home Church since there are no classes. We also continue having a youth service every Saturday afternoon and continue to win souls. Under this pandemic situation, many souls are thirsty to hear the word of God and we take it as an opportunity to preach the Gospel, through Bible study in our neighborhood and now some of them are joining our Sunday service.
We are thankful to God because He is using Christian organization to help indigenous people, and t hlep feed families through their giving. We received 24 boxes on July 1, 2020. This food is a big help to the people since there are no jobs at this time. We gave to every family, church members and unbelievers. This is a sign that we care for everyone. It shows love and care to one antoher. Glory to God for He never leaves us nor forsakes us. He is truly our provider and strength even when we are now facing a big crisis in our country. God bless.
Psalm 107:8-9 " Oh that men would praise the Lord for his goodness, and for his wonderful works to the children of men! For he satisfieth the longing soul, and filleth the hungry soul with goodness."
– Fely Degamo