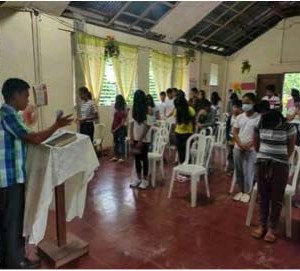 Youth Fellowship, Abo-Abo First Free Will Baptist
In the midst of this pandemic Abo-Abo First Free Will Baptist Church conducted the Youth Fellowship through the leading of Pastor Freedom Amenin, and cooperation of the members and Youth department. It was a great success, and the Lord blessed in a mighty way. It was attended by 42 youth from thw nearby barangays of Burirao, Isumbo, and Ipilan. During this activity we followed the safety protocols of having social distancing, wearing face mask, and sanitizing.

Proverbs 16:3 says, "Commit to the Lord whatever you do, and he will establish your plans." This event shows our Lord is worthy to be praised and glorified to the best of our ability. He worked miraculously to stop the rain and to get back the electricity to do this activity smoothly from the start until the end. The messages of God was given by Pastor Freedom Amenin. He spoke about the Good News of salvation through Jesus Christ. He is the only way. We cannot be saved by our good deeds, religion nor our education, but Jesus ONLY. The great blessing of this day was that some accepted Christ as their personal Savior and others rededicated their lives. We have also dedicated ourselves to the hearing and sharing of God's Word.
It was clear to see by the joy on the faces of everyone how blessed we are to have this time of sharing to grow nearer to God, and to go forth to share His love with others. We shared in a time of food and fellowship, rejoicing at what God has done in each of our lives.