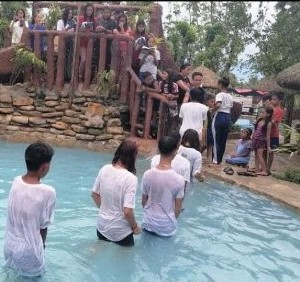 Good News in Bad Times
"Go ye therefore, and teach all nations, baptizing them in the name of the Father, and of the Son, and of the Holy Ghost" Matthew 28:19. This commandment of God was observed after the Sunday Worships Service November 29, 2020 at Mabama, Mindanao, by 15 who had trusted Christ as their Savior. Opening prayer by Pastor Jimboy P. Balingit and followed by an orientation and further instructions, and baptism by Rev. Federico D. Abellana. In the midst of pandemic, nothing shall stop the children of God in proclaiming God's goodness and fulfill God's Commandments. To God be the Glory. Written by The Rev. Federico Abellana.
On December 6 2020, there were 16 people who wholeheartedly decided to have a water baptism. Before we baptized them, we explained how important water baptism is and what it symbolizes. The officiating minister was Pastor Sonny Abragan Badoles in Loguilo, Alubijid Misamis Oriental. During our water baptism I saw how happy and excited they were to surrender their whole life to God. In spite of the many persecutions they experienced within their families they never stopped attending to this the important part of their lives and they became united in Christ. The majority of those who were baptized live in the mountains and came from different backgrounds and beliefs. For this reason, even though they come from different places, God still worked to united them so that these 16 people could come together to dedicate their lives completely to God. To God be all the Glory. Written by Rev. Sonny Badoles.