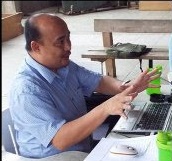 Attorney Eric Tormis – Cebu, Philippines
"Let me begin by telling you that a tragedy happened to my family. Last February 18, 2021, a family member tested positive for COVID 19. We immediately isolated and had our tests as well. We later found out that all of my famly members were COVID positive. My wife, myself, my mom, dad, a sister, and two brothers. Six of my family members were rushed to the hospital, my mom, dad, my wife, sister and two brothers. Three were brought to the ICE ( my wife, mom and dad). My two brothers and a sister were in the regular COVID room.
After about a month in the ICU, my mom who was 75 yers old died, due to pneumonia and pulmonary fibrosis which was the result of the COVID infection. My dad who is on hemodialysis three times a week, survided and has already checked out of the hospital last April 19. He is already home although still requiring rehabilitaion because of the lung damage he sustained. My sister and two brothers also were discharged after about two weeks in the hospital. They are now COVID free. My wife, Mariza, is still fighting for dear life at the ICU after more than two months in the hospital.
I did not tell you this right away because I don't want to burden you with my own problems. I know God will not abandon me at this tiem and my faith has never been this strong ever before. I thank the Lord God for giving me the strength to carry the load and I am always praying for wisdom to do the right thing. I thank you Sir for your prayers and the support you give me." PLEASE PRAY FOR THESE DEAR FRIENDS.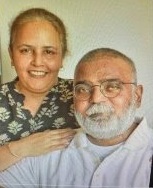 Maalah and Anneel Abrraham in INDIA: " Thank you so much for your prayers and concern. We are well, only by the grace of God. Although every time we get a little cold or cough, it becomes a concern. The situation with Covid-19 is terrible here, there is much more happening than what appears in the news. Sir, all our locations are affected right now, even in the deepest tribal areas that has not been affected until now. This time the virus has made its presence felt strongly. Prayers are the only mode of survival. It is extremely scary, nothing can be done. There is a scarcity of hospitals, beds, oxygen, medicine, vaccine etc. People are dying in the streets without any help. It's frightening. Please continue to pray for our country and us.