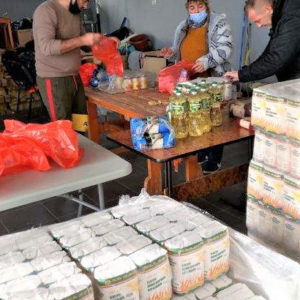 A Very Present Help
"The statutes of the Lord are right, rejoicing the heart: the commandment
of the Lord is pure, enlightening the eyes" Psalm 19:8.
How are you feeling? What do you need emotionally, spiritually, and physically? Who is in charge? Whom can we trust? Who can help us? I ask these questions to people I meet, in these days of uncertainty. These questions are an opportunity to remind each other of Jesus and know that He cares! People, however, feel stuck in what looks like hopeless circumstances. Faith is always facing contradictions. There are health issues, family issues, and many other problems.
Christmas is the Central Miracle of Christian Faith. We, as so many people in the Bible, believe God in the face of apparent contradictions of sudden deaths and ill health. When we stay in faith and refuse to doubt, things will turn around. Our lives can change dramatically, sometimes following an astonishing improvement. Who is in charge? Seven hundred years before the birth of Christ, Isaiah gives us the answer! "The people that walked in darkness have seen a great light: they that dwell in a land of shadow of death, upon them hath the light shined" Isaiah 9:2. We can trust the Wonderful Counsellor, because only He has the answers we need. We can trust the Mighty God, because He has the power to help us. We can trust the Prince of Peace, because He alone can fix what is broken. Christmas reminds us also of something else; that God is God and we are not! It is vital to remember this during our journey of service to God's Kingdom. We don't need to run the universe! God is doing that! What we need to do is to humbly serve Him, and labour in the field He has prepared in advance for us. On December 19, most of Bible Club kids and youth were not well. Some got tested and turned positive, others did not have the money to buy the test and were just ill at home. In the afternoon of December 24, 2021, an older lady died in the camp from Corona. That day, volunteers from our church in Balchik, Brother Ikbal and Brother Meli, were taking food packages with sunflower oil, beans, rice, canned tomatoes, and flour to over one hundred poor families. Over seventy children got a food pack with fresh milk, toothpaste, toothbrush, soap, chocolate, and waffles. Brother Osman visited
two widows in Dobrich and took them food packages. All the people were praising God! We did not have a church service for a second Christmas, since the pandemic. Instead we visited our brothers and sisters in Christ. May the merciful God provide a way for a world free of Covid, so that we can meet again! People crave to be together as a congregation in the church! I have organized "office hours" for those seeking prayer and counselling. We keep connection with each other by texting and communication via phone and WhatsApp. Most people in our church are not vaccinated! We keep on praying!!! Dear Brothers and Sisters, in Christ Jesus, we praise the Lord for your sacrificial contributions, because you make a difference! We always remember you in prayer and thank the Lord for you!