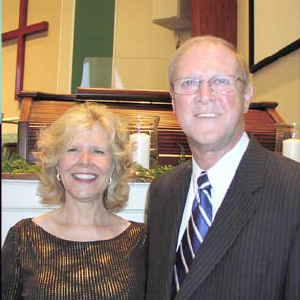 Rev. Wayne King, Speaker
Wayne and Deborah have moved to Louisiana to be near Kelly, Sam, and the grandchildren. This Rally will honor Wayne and Deborah, who served as missionaries in the Philippines from 1975—1980. Since returning to the United States, Wayne served as pastor of Westside FWB Church and the First FWB Church of Wilson. He served on the Board of Foreign Missions from 1982—2013. This couple has touched the lives of many people in our denomination and around the world. We encourage you to attend the Rally and share your love and appreciation for them as they enter this new and exciting phase of their lives.

Special Music: Jami Rhodes
Jami is from Sandy Plain FWB Church, which was Wayne's first pastorate in North Carolina. She is currently the Choir Director at Reedy Branch FWB Church. She holds the Doctor of Musical Arts degree and is Assistant Professor of Voice at East Carolina University in Greenville, NC where she teaches voice and pedagogy, and conducts the ECU Women's Chorale.