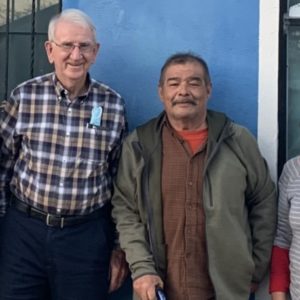 On the afternoon of January 10, 2022, Sandra and I began our journey to deliver a 15 passenger van that Stancil's Chapel FWB Church gave for one of our churches in Mexico. On our way, we visited our dear friends, David and Hallie Still. They are members of Zion FWB Church of the Paul Palmer conference in Blakely, Georgia. We had a wonderful visit and look forward to visiting them again real soon. We left their house on Wednesday morning around 11 a.m. on January 12, and arrived in Eagle Pass, Texas on the afternoon of January 13. We entered Mexico on January 14. We drove a distance of 1,792 miles. It was the first time we had been to Mexico in two years because of the pandemic, and we were so excited. Before we arrived we received news that our Field Director, Everardo "LaLo" Martinez had tested positive for Covid, and would not be able to accompany us on our in-country travels. He made arrangements for others to travel and interpret for us. (We really missed being with him and seeing his family, but we are thankful for those who volunteered to help out.)
Friday afternoon we visited Pastor David Teran, his wife, Betty, and their children. He is the pastor of Prince of Peace FWB Church. Eleazar Vazquez and his girl friend, Yasmin, who is fluent in English, drove us and she interpreted. We have seen Eleazar grow from a baby to a fine Christian young man. We had a great visit and enjoyed the delicious tamales. Our next visit was with Pastor Luis Esquivel and his wife at the Lily of the Valley FWB Church.

On Saturday, We visited Pastor Baldemar Montoya at the Ebenezer FWB Church. Then we went to the Jordan FWB Church and had lunch with Eleazar's family. His father, Eliseo, is the pastor of the church. It was so good to be with these dear friends again. Saturday evening at 6 p.m. we attended a Graduation Ceremony for three Bible School students at the Jordan FWB Church. Eleazar Vasquez, Samuel Escobar, and Juanita Sanchez finished their course that was taught at the Prince of Peace FWB Church. How wonderful to see sons of our pastors training for the ministry. Following the graduation, we enjoyed a delicious meal together.
On Sunday morning, we traveled with Efrían Agüero to Rosita. He is the pastor of the Shalom FWB Church. Following the morning service, we went to the home of Pastor Filemón Agüero, who pastored the church before his health failed. He and his wife, Benita, have been faithful servants of the Lord for many years. After a short visit, we traveled to the Good Shepherd FWB Church in Sabinas for a brief service and lunch. The former pastor of this church Bro. Cristóbal Vázquez died a few months ago with Covid. His son, Eber, now pastors the church. This terrible disease has taken many faithful members in Mexico. We shared a delicious meal and had a joyful visit with them before departing for Monclova. This is when the trip took a totally different turn.
~ Harold Jones