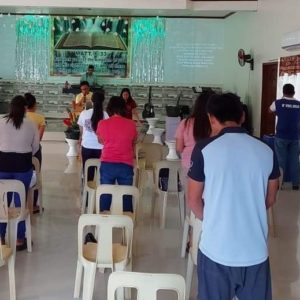 President Roxas, Philippines
Every Friday from 5:00 to 8:00 p.m. the members of the OFWB Church President Roxas attend the mentoring session and prayer meeting. These sessions are conducted by Pastor Djeck Elton Numos and his wife, Mary Ann. During the sessions, the members are encouraged to participate and share their insights with regards to the different topics that are being discussed by the mentors. The main purpose of the mentoring session is to create leaders and build them up to be ready for discipleship. Prayers are the backbone of the church. Thus, after the mentoring session is the prayer meeting. It is one of the most important aspects to sustain and strengthen the Body of Christ. The members are able to address their concerns and prayer request and then they will pray for each other and for the church.
To end the Friday night well and full, the assigned sponsors from the different clusters prepare a fellowship dinner for everyone. In this aspect, the generosity and love of the members is fully shown and executed. The fellowship dinner is based on the scripture found in Acts 2:42, "And they continued stedfastly in the apostles' doctrine and fellowship, and in breaking of bread, and in prayers." As we prepare ourselves, may God strengthen us for the task ahead.