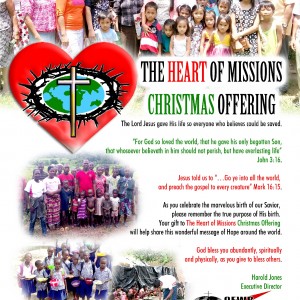 The Lord Jesus gave His life so everyone who believes could be saved."For God so loved the world, that he gave his only begotten Son,
that whosoever believeth in him should not perish, but have everlasting life" John 3:16.
Jesus told us to " … Go ye into all the world, and preach the gospel to every creature" Mark 16: 15.
As you celebrate the marvelous birth of our Savior, please remember the true purpose of His birth. Your gift to The Heart of Missions Christmas Offering will help share this wonderful message of Hope around the world.
God bless you abundantly, spiritually and physically, as you give to bless others.