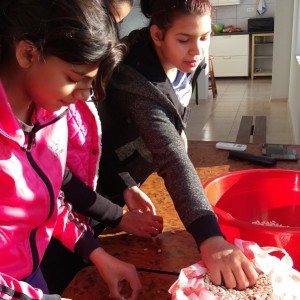 "As every man hath received the gift, even so minister the same one to another, as good stewards of the manifold grace of God" (1 Peter 4:10). Last winter was a hard time for all of us. The weather was often below 20 degrees and we bought a lot of tea and paracetamol to prevent flu. Last winter the youth promised that during the summer they would go gather nuts, rose hip tea, and beans. While everybody else was at the beach during the hottest days of summer, our youth were in the fields, gathering goods for the church. I am thankful they kept their word. All of them worked as a good team.
We realize how important it is to form a right understanding about God, from a very young age. In our daily Bible Club we have children from five years old up to the oldest youth, which is 18 years old. We are blessed. We read the Bible, draw, and watch biblical movies. As we celebrated Christmas last month, parents and relatives were also invited. Everyone has been excited about the program. Please keep us in your prayers, as we have started a women's group, which began meeting on a regular basis during the month of December.
Helping the needy – Varna, Bulgaria
With joy in our hearts we want to share with you some of the events in our church. We got to know the family of Angel and Dimka. They do not have a home of their own, and are forced to live in the shelter of Varna. Angel has lung cancer and Dimka is working for very low wages. They have nine children from five months old to 18 years old. They eat a very limited amount and are in need of clothes for themselves and the children. Our church gave them some good winter clothes and two pairs of shoes. We also contacted the municipality open kitchen, and arranged for them to receive four portions of food five days a week. When we were leaving the shelter, we saw children playing in the yard barefooted and very lightly dressed. We asked them if they would like to have some clothes and they wished to have some. After some days, we returned with clothes and they were so happy. They asked us next time when we come to visit them, to bring a football. Praise the Lord for all the things we can do for His people in need.
YOUTH CAMP 2017 VILLA REYES BAPTIST CHURCH
SAN NARCISO, QUEZON PHILIPPINES
First and foremost, we acknowledge and give highest praise to our almighty Creator, our heavenly Father, the Author of our life and salvation, the Lord Jesus Christ, and our Great Guide the Holy Spirit. The Villa Reyes Free Will Baptist Church conducted a regular monthly fellowship. We have noticed that the attendance of the fellowship was increasing each time. This is a wonderful time for a great harvest. Thus, we decided to design and organize a Youth Camp for this past year (2017). We believe that this could be a way for us to win souls, and for the youth to be drawn closer to the Lord. The theme of the Camp was "Shine and Rise, Be a Soldier of Christ."
As we were planning this ministry of God, we had nothing but faith that our glorious Lord would provide everything, especially the financial needs for this camp. Thus, we called this "camp by faith" because we continued preparing for this event knowing that we don't have budget because we know that God is the "Great Provider" that shall provide everything according to His riches in glory (Philippians 4:19). And as usual and was expected, God used His servants to provide everything which was required for the implementation of this ministry. Finally, the camp was successfully done. It is God who made this happen. Praise Him! He is a great and victorious God at all times. To Him be all the Glory!