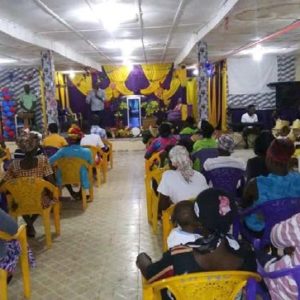 We give God the glory for all He has done, is doing and will do for us all. We thank God for you for your continuous prayers and financial support specially in times when the world is being attacked by COVID-19. Your prayers and commitment to the Lord's work around the world is highly commendable and appreciated. A revival and prayer meeting was held at the Habitation of Faith OFWB Church in Paynesville. It was a time of prayer and thanksgiving as the cases of COVID-19 were going low, and many recoveries were being recorded. The good news is this dramatic trend began to take place right after churches were allowed to resume worship services. Many feared that opening of churches would have given rise or increase in the number of cases and infections, but on the contrary the Lord proved them wrong and showed Himself strong, that He is not just a healer, but He is also a protector. Many came to thank God for his protection and provision during these times of global health and economic crisis.
Lurece Gnininte, wife of Rev. Gnininte, served as Guest Speaker during this graduation program. During her speech she spoke on women making use of their natural resources to help take their families out of poverty and to be a helpmeet to their husbands. With the acquisition of skill training and knowledge in soap making and tie and dye, which are the basics of everyday life, these women who have been empowered will be self-sufficient in opening local businesses. They received certificates during the graduation program
The Women Empowerment Program recently had some graduates for another cycle. The emergence of COVID-19 put a halt to the program that should have graduated students in April. Meanwhile, as things are gradually returning to normal, a graduation was held at Hearing of Faith in Soul Clinic, Paynesville.