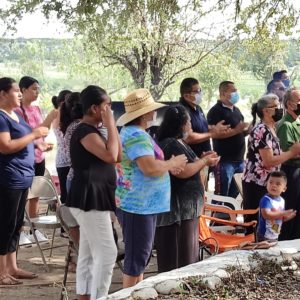 By Rev. Everardo Martinez
On August 29, 2021, part of the Original Free Will Baptist Churches in Mexico celebrated the Ordinance of Baptism. When I say "part of the church", it is because unfortunately, in our State, there are still many restrictions
on activities where more than 100 people meet. All of these restrictions continue to be derived from the pandemic. Despite all of the above, we attended the baptism with joy and blessings. We are witnesses of the wonders and blessings that God does in and for His Church.
Christ is coming, continues to be the message of the Church. This pandemic has caused endless theories and arguments regarding the end of time, but what has not changed is that Christ is coming, and His coming is imminent.
I asked a young girl, her name is Natalia, "why do you want to get baptized?" And her answer was, "I want to be responsible with Christ, because when He comes, I want to know that I am ready, even though I am still very young. I want to put all my will to be responsible in serving and obeying my Lord and Savior." it is beautiful when a person at an early age embraces God's purposes and promises. "It is good for a man that he bear the yoke in his youth" Lamentations 3:27.