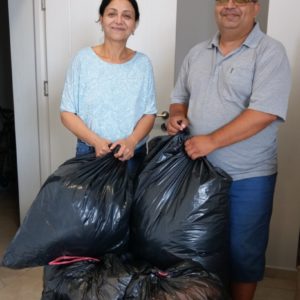 By Tezdjan Murtazova and Nicolay Nicolov
Jesus said, "The poor you will always have with you" (Mark 14:7). This is a summons never to lose sight of every opportunity to do good. Today, in fact, people are less willing compared to the past to confront poverty. Are we not open to reading the signs of the times? Broadly, poverty means not having the money to purchase the necessities to maintain a minimally adequate life, such as food, shelter and clothing. About 41% of Bulgarians are at risk of falling below the poverty line and 10% live in extreme poverty. I know well that similar or even frightful statistics are in force for most countries across the globe (Kenya, India, Mexico, and Moldova, just to mention a few). It is not a matter of quieting ones conscience by giving alms, but a matter of opposing a culture of indifference and strengthening solidarity to achieve justice and see Jesus. A few days ago, I was selecting clothes for the poor kids in Balchik, and I thought of how God has blessed me so much, so I called Brother Nicolay and asked him if he could use some for the Day-Care Center in Asparuhovo. He was more than happy to get some. We prayed and thanked the Lord for His care and love.

Today mother Ceylan came to me with a 2-year-old child, and told me she had nowhere to sleep during nights. She stayed on the street. Her partner is a drug addict, and so far, he cannot find a stable job that has fixed finances. Ceylan's story is that she was raised in an orphanage. Her mother was a prostitute and her father died when she was born. I placed her temporarily in a van designated as a Day-Care Center for children, young people, and single mothers in socially vulnerable situations in the city of Asparuhovo. She needed to be tested for Aids, Syphilis, COVID-19, and some parasites. These tests lasted 10 days; no institution wanted to provide accommodations for the mother and the child, so she stayed in our van. I contacted the Child Protection Agency and started a procedure for accommodation in the municipal shelter Mother and Baby Unit. Mother Ceylan got accommodation and now has a place to sleep. There she gets food only at lunch, and they have no food on Saturday and Sunday, but they come to eat with us. She is a caring and responsible mother who seeks security for herself and her child. We hope for a better life for this mother and her child. God bless them is our prayer! Dear Brothers and Sisters in Christ the Risen Lord, The pandemic has affected us all. You have your challenges, too. Yet, you did not harden your hearts, instead with great humility "without sadness or compulsion…" (2 Cor. 9:7) you continue contributing to Foreign Missions and help keep the dignity of many poor around the world. May God of all mercies and riches bless and keep you, for you are faithful servants and we always thank the Lord for you in prayer.