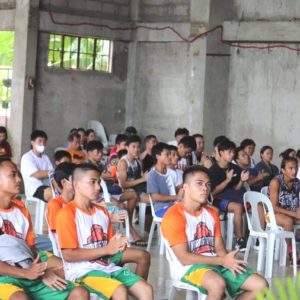 INTERCHURCH BASKETBALL LEAGUE
Sports and recreation ministries expand opportunities for our congregation to connect with each other and the community. Living a God-centered life can involve a little sweat, fun, and competition. Any church or cluster of congregations can consider starting an exercise for physical fitness, developing a sports league, and evangelism serving as a center of recreational activity! OFWBCII CEBU DISTRICT INTERCHURCH SPORTS LEAGUE wanted to reach and minister to young people through sports and recreation, not only entertain, but also to strengthen bodies and spirit, sharpen minds 'love inspired,' competitive sports, fitness programs that will become a point of contact with the other local churches as a Body of Christ!
This tournament brought unity among the players. Often times, basketball leagues bring people together, and the game has a message to the youth. Because it was a Church tournament, we had to bring them and show them how things are done. It is not about basketball without Christ. It can't work that way. That's why we always bring the Gospel of Christ in every way! Our Youth here at Cebu City, Philippines have started gathering once again to be part of our once in a year basketball ministry. This is a very special form of sports fellowship because we involve them first in the WORD of God even during the games they apply what they've learned from the WORD that was preached by Rev. Dario Basingil.
The game started very enthusiastic and every team participant was so happy to play a game because they have felt that they were part of God's family. Opening Game Ceremony was conducted during this event from the praise and worship that has glorified God until the basketball started. The tournament included performances during the opening ceremony from our game committee Brother Harold and Jhoezer Basingil. The tournament included players from all local Cebu District. Churches that participated include, Bulacao Team, Mandaue Team, Minglanilla Team, and Laray Team.

We are so blessed to have that special day, and we know that God was with us because it didn't rain, even though there was a heavy rain cloud surrounding the court. To God be the glory!
By Arnel Pañares