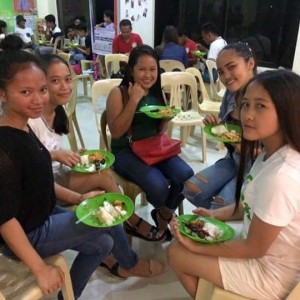 On Saturday, January 25, 2018, Friends of Jesus (FOJ) Fellowship celebrated a year of joy, love, hope, faith, and sacrifice at the OFWB Church in President Roxas City. Over 50 Friends of Jesus participants joined the historical event, with the theme verse "Forget the former things; do not dwell on the past" Isaiah 43:18. The victorious event was headed by the FOJ Leaders: Mrs. Wheel Rose Mosquera-Saquibal, OFWBC Youth Coordinator and Brother Thata Nicor, respectively. The Rev. Djeck Elton Numos, OFWBC Host Pastor and Mary Ann Numos, Bible Woman, spearheaded and supported the event. In support, the Rev. Numos gave his breakthrough message and that inspired every youth to not dwell on the past, but to make new commitments for Christ. Bible Woman, Mary Ann Numos, encouraged the youth to continue serving God as she stated, "I hope it will be the beginning of your many return trips in this church and in Christ."
The FOJ Fellowship was filled with love, joy, and thanksgiving in the Presence of God. The fellowship was also known as the first successful anniversary among the youth fellowship in the Municipality of President Roxas. The fellowship serves as an inspiration, since it gives a colorful meaning to our youth. FOJ (Friends of Jesus) builds confidence and encourages humility in every youth while they are serving God. Indeed, Friends of Jesus Fellowship is a remarkable gathering in shaping the youth according to God's grace and provision.
The night ended with a dinner fellowship prepared by the OFWBC Family. This was a fitting conclusion to our first historical anniversary.