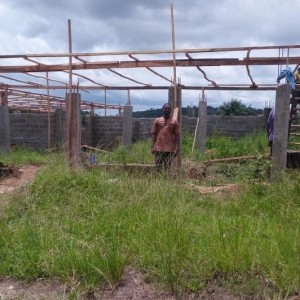 We want to give God the glory for the great things He has done. His faithfulness towards us all is seen and visible. We also want to thank every one of our OFWB brothers and sisters for your continuous sup-port through giving and prayers. We are so happy for the support given to one of our schools, The King's College received a special gift to help complete a wing of the school, the elementary wing, and a play-ground for the kids. This has given the building a face lift. Though the project is still ongoing, yet many in the community have come to express their thanks and appreciation for the project.
The elementary wing is named, The Ashley McRoy Disney Wing. This wing consists of 5 classrooms. The playground has been named the Ashley McRoy Dis-ney Kiddies' Playground. This is in honor of the memory of our late Sister Ashley McRoy Disney who went to be with the Lord after a period of fight with cancer. Though she is gone, yet her memory will live on as long as this building and playground are being used by the kids. We want to thank her family for this worthy cause, and we know for sure that this would make Ashley happy that this has been done. We had a brief time of prayer last Friday for Ashley's family at the School and Church as we also posted her photos on the wing and the playground. The pictures show how far we have come with the project. We are still awaiting the seesaw and other items for the playground which are being made.
TO GOD BE THE GLORY!