The Great Commission of Jesus Christ
By Letty J. Segay
Recently four young people gave their hearts to the Lord and followed through with water baptism as directed by the Lord. Among them are Ma'am Kristine Mae L. Payos, a grade 4 teacher at the First Free Will Baptist Christian School. The 3 others are the youth in our church at Emmanuel First Free Will Baptist, San Pedro, Puerto Princesa City, Palawan. Their names are Paul Rio Lojero Jardin, Portia May Lojero Jardin, and Kathlene Anne Intal Bustos. Pastor Andrino Segay officiated the service. Obedience is the very best way to show that we believe, doing exactly what the Lord's commands and doing it happily. God is so pleased when we obey Him, and follow this ordinance. May the Lord God be glorified in the lives of every believer. To God be the glory!
Baptism the Command of Jesus
By The Reverend Orlando T. Garcia
The First Free Will Baptist Church in Puerto Princes a city recently conducted a Baptism Ceremony at the former Vietnamese Refugees Camp beach. Four youth had accepted Jesus Christ as their personal Savior and surrendered their lives to Him to obey the great commandment of Jesus, the water baptism. Their names are: Jasmine, Antoinnete, Alexis, and Dustine. This is very pleasing to God. Please pray for these young people that they may continue to live in the new way of life— Christian life onward.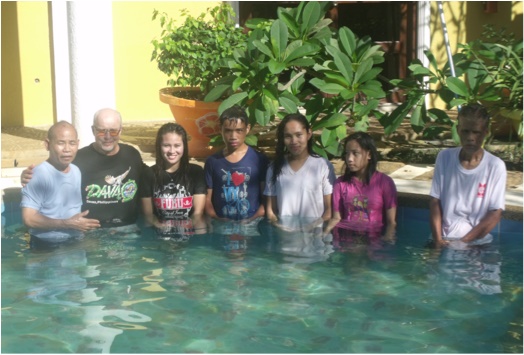 North District – Family Camp
By The Reverend Orlando T. Garcia
The First Free Will Baptist Churches in North District of Palawan led by the District Chairman, the Rev. Romeo Galleto, Jr. held two and a half days of their Third District Family Camp in Barangay Itangil, Dumaran, Palawan. All churches in said district participated in all of the activities. The program included lectures, parlor games, ball games, and presentation of the youth from local churches. On the first day we were inspired from the Word God with the morning devotional by Pastor Melchor Verdida, and Pastor Gregorio Mate on the second day. The Rev. Marcos Taladro was the speaker on the first night for the Revival night as he challenged everyone to give their service faithfully to the Lord and to the church. On the last night I was the speaker. I challenged each family to keep strong in service for the Lord and keep in unity in the family.
On the last day we experienced Typhoon "Usman" with a signal of number two. We are so thankful to God for His protection and provision. Everyone went home with joy in their hearts with the blessings of the family camp. Everyone arrived home safely. We are so grateful to the Lord God Almighty who always protects us in every situation, and gave an inspiration to all the events. All GLORY and PRAISE to the LORD.