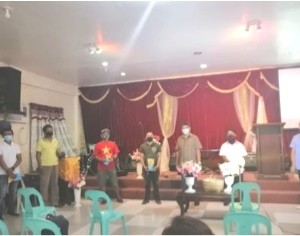 Our Response to COVID-19 Original Free Will Baptist Church
Initially, our church's response to Covid-19 was fear and anxiety. When our govern men suspended all mass gatherings, including our corporate worship, we were confuse and felt a sense of uncertainty about what to do with our worship. But as soon as we cried out to God, He began to unveil His promises of protection, provision, and peace in the midst of the crisis. Little did we know that God had already provided the option to worship Him through online, though it cannot duplicate the advantage of personal or physical worship, somehow the devil failed to cut us off from our worship and fellowship and feeding on the Word.
Today, what we thought to be a great crisis in our spiritual life, this pandemic has become a great blessing to our church spiritually. We are regularly conducting Bible studies for women, young professionals, and young people, and the men. All of these Bible studies are scheduled every Monday, Tuesday and Friday respectively. We are also holding our mid-week prayer meeting every Wednesday and two Sunday worship services morning and afternoon. Except for Sunday services, all those ministries are done online.

Another blessing that we lately realized is the participation of our members working abroad to our Bible Studies and worship services. Had it not been for this crisis, we would not have reached our OFWB members spiritually. Joseph said to his brothers in Genesis 50:20 "But as for you, ye thought evil against me; but God meant it unto good, to bring to pass, as it is this day, to save much people alive."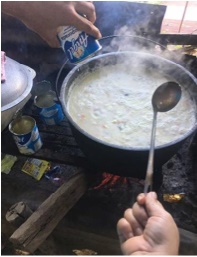 Feeding Program-Macaroni Soup and Spring Roll in one of the slum areas in Carmen
What the enemy meant was to bring disaster and discouragement to the people, but the Lord used this to fulfil his purpose that the Gospel may be preached to all the world then the end shall come. Our online Sunday Worship paved the way for our unreached family members and friends to hear the Gospel through facebook live and we exalt God for the hundreds of views we get each week and numerous people that our church page can reach. The Lord has proven His character by faithfully providing the needs of the church members during the quarantine days.
– Rev. John Baylon