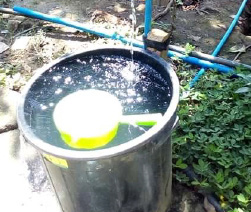 OUR DREAM FOR WATER SUPPLY
It is a great blessing for our local church to have running water here at Abo-Abo Free Will Baptist Church, as well as the parsonage.
We are very grateful to God for providing such a blessing. We would like to thank our brothers and sisters in Christ for providing the funds through Rev. Harold Jones and Ma'am Sandra. Currently we have access to water and this is a great help and blessing for the work of God. Again thank you so much. God bless you. To God be the Glory.