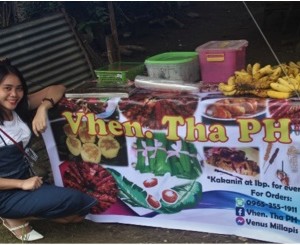 BLESSING FOR NEW BUSINESS By Gladys A. Taladro
On November 8, 2020 we had another special event for one of our church members. We held a "Blessing Celebration" for Ms. Venus Millapis' new business cart named "Vhen. Tha PH, in barangay Mangingisda, Puerto Princesa, Palawan. We were so happy and proud for this new blessing for our sister in Christ even though she is currently experiencing a lot of struggles, but through her faith in God she managed to open a new business. It will serve as a testimony that God's children will be blessed as long as we hold on to our faith and claim His promises as our great provider. Please pray for a continuous source of income and additional capital to make her business grow within God's will.
SOUTH DISTRICT MINISTERIAL MEETING
Plaridel, Palawan, Philippines

We are so Blessed and thankful for the successful South District Ministerial Meeting that was held November 13, 2020 at Plaridel FWB Church, Palawan Philippines. After a long period of time, because of pandemic, we had a chance to visit and check our Pastors situation in the South District. We are so glad because the current situation does not stop them to continue inspiring and winning souls. A lot of things were discussed and clarified. We gave each church an opportunity to report on their activities and it was an inspiring day for us to see how excited and happy they are in their ministries. We are so grateful for our churches who have great leaders and servants of God. Many stories were shared by each pastor to give inspiration and learning. We believe and still pray that God will give our leaders and workers wisdom to be stronger, to hold on to their faith and follow God's way. Please pray for them.