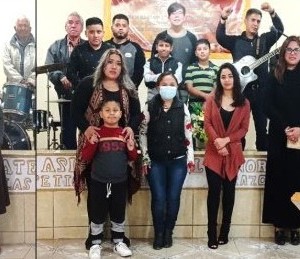 The church in a time of pandemic
Bethel FWB Church
Sister Minerva Garcia seeks to serve the Lord and is interested in knowing the Holy Scriptures of Jehovah, God of Power. Her husband is not converted, therefore, she does not have his support even to attend the church. This causes them problems. In 2020, Sister Minerva made an effort to assist in sharing the Word of Christ and teaching. Although with many difficulties, she does not consider it a discouragement. For her it is very importatn to continue her training to serve the Lord, in knowledge of the Wisdom of God the Father, What discoourages her is that she will not be able to fully be active in the Church due to the opposition of her husband. We ask your prayers for our sister, and for her 6 year old son, Edwin. He likes memorizing God's Word.
On Sunday afternoons, families are ministered to with the living and effective Word of God. We started these Sunday studies during the pandemic.
In May of 2020 we started with the construction of a department for Bible study for children and youth and our church. Please pray with us for the completion of this project.
"Now thanks be unto God, which always causeth us to triumph in Christ, and maketh manifest the savior of his knowledge by us in every place." 2 Cor 2:14