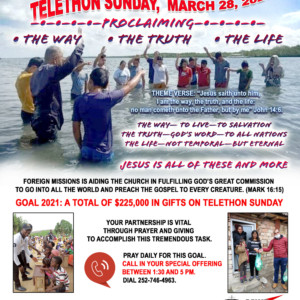 Dear Friends, This year we are not sending inserts for each Sunday in the month of March for our Annual Foreign Missions telethon. We, however, have produced four videos from some of our fields. There is one for each Sunday, the YouTube channel is ofwb international – YouTube. Click on the link and it will take you to the videos. We sincerely request you to make every effort to assure that these videos are shared with your church family each week. This can be done through the media department in your church, or by using a laptop with small groups, and if all else fails they can be viewed through individual cell phones. If you are unable to download the videos to your church media system, please call me at 252-756-9732 and we will send you a thumb drive.
We are also sending a packet to pastors and auxiliary presidents, with information to be shared each Sunday for churches that do not have the capacity to show the videos. We encourage someone to read this information during the Morning Worship hour.
The videos can also be found on our Facebook page.
We thank every church and individiual for partnering with us in reaching the world with the Gospel, and for your generous gifts on Telethon Sunday, March 28, 2021
Trusting in Jesus, THE WAY, THE TRUTH, AND THE LIFE.